Frank Carson's funeral cortege route is revealed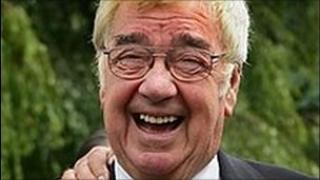 The details for the funeral of Belfast-born comedian Frank Carson have been revealed.
The ceremony is due to take place on Saturday at 11:30 GMT at St. Patrick's Church, Donegall Street, Belfast.
Carson, who died at the age of 85 last month had been seriously ill for some time.
The comic will also be remembered for his charity work, which earned him an honorary title from Pope John Paul II.
He is survived by his wife, Ruth, three children, 10 grandchildren and one great-grandchild.
After the Funeral Ceremony at about 12:35 GMT, the remains of Frank Carson will be brought in procession from St Patrick's Church to various locations around Belfast to arrive in Milltown Cemetery at 13:00 GMT.
Cortege route:
The coffin is to be carried down Donegall Street to St Anne's Cathedral.
A short tribute and prayer from the Dean at St Anne's will take place.
The cortege will continue down Lower Donegall Street to Waring Street.
At Waring Street the hearse will turn right onto Bridge Street
And then left onto High Street.
At the Albert Clock the hearse will turn left onto Victoria Street, and
from Victoria Street it will cross Dunbar Link onto Corporation Street.
The hearse and family will stop at the Sinclair Seaman's Church, where a wreath will be placed opposite where Frank Carson lived and grew up.
From Sinclair Seaman's Church the cortege will make its way along Corporation Square onto Donegall Quay turning right at Queen's Bridge onto Ann Street.
At Victoria Street the cortege will turn right and then left back onto High Street up to Castle Place and left onto Donegall Place to the City Hall.
At Donegall Square North the cortege will turn left and then right onto Donegal Square West, then right onto Donegall Square South and continue up Howard Street onto the Grosvenor Road onto the Falls Road and on to Milltown Cemetery.