Millions spent on Stormont hospitality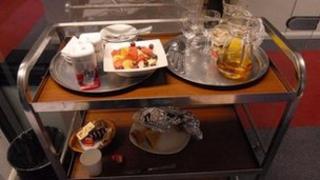 It has been revealed that the NI Executive has spent almost four and a half million pounds over the last five years on hospitality.
The spending came across all government departments.
The details were released following questions from the Traditional Unionist MLA Jim Allister.
The Office of the First and Deputy First Ministers spent the most during the five year period, with £826,760 being paid for hospitality since 2006.
The Department of Health, Social Services and Public Safety (DHSSPS) had the next highest spend on official hospitality over the period, paying out £688,800.
Mr Allister said that, although there had been some reduction in hospitality costs in recent years, the figure was still far too high.
"These figures demonstrate once again just how out of touch Stormont is with the needs of ordinary people - particularly at a time when many are finding themselves out of work or suffering pay cuts," he added.