Old and new make the list for building of the year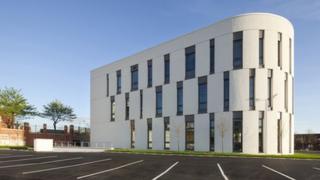 The shortlist for the Royal Institute of Chartered Surveyors in Northern Ireland building of the year has been released and it is a stunning mix of the old and new.
The judging is broken into four categories and 20 buildings have been nominated.
They include the new Lyric Theatre in Belfast; the restored St Columb's Cathedral, the oldest building in Londonderry, and smaller projects such as the new Jordanstown school for children who are deaf or visually impaired.
A new award for design and innovation joins the existing categories of regeneration, community benefit and building conservation.
The shortlist includes commercial schemes, residential developments, community projects and public sector buildings.
As well as picking the best in each indivual category, the RICS will also select an overall winner.
Judging chairman Alistair Dunn was happy to expand the number of categories.
"We have six projects shortlisted in the design and innovation category, which throws the spotlight on creative and imaginative building projects," he said.
"It ensures that the RICS awards continue to reflect the scope and expertise of our building professionals. Sustainability remains a major focus for the awards and should be an important part of every entry.
"The high standard and overall number of entries is testimony to the tenacity and ingenuity of property and construction professionals in challenging economic times."
The winners will be announced at the RICS Northern Ireland awards ceremony in May.