Irish president Michael D Higgins in Belfast visit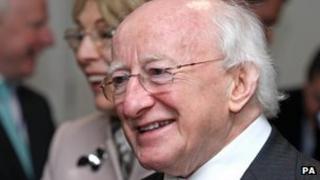 Irish president Michael D Higgins has said "cynical fatalism" will not serve the people of Ireland well in the face of the economic crisis.
He was addressing trade unionists at Belfast's Waterfront Hall.
Mr Higgins said the lesson of the peace process was that no problem cannot be solved if people have "the will, determination and ingenuity to resolve it".
He is on his first official visit to the city.
He told the audience at the Waterfront that it was understandable that people were hurt and dismayed by the economic crisis that had "shattered their lives".
"A huge price has been paid for the speculative period of unsustainable growth and false property led development in the first decade of this century.
"For those who promoted this bubble, personal wealth and material possessions became a dangerous obsession; at the level of society, ostentation replaced simplicity; and selfishness replaced selflessness.
"The sense of community, for which our island was so richly famous, was eroded as those who pursued aggressively individualistic goals had little time for collective endeavour, little interest in social solidarity and little capacity for ethical reflection."
Mr Higgins said it was important that the assumptions and the values behind "this false economy" be exposed and rejected.
"We are emerging from a dark period in our economic history and we are certainly entitled to curse that darkness.
"But we also need to light the candles of hope that will help us to navigate a path towards a better and fairer future," he added.
Later, the Irish president was greeted by theatre students singing a chorus from the musical Les Miserables when he arrived at Belfast Metropolitan College.
Mr Higgins was elected Ireland's ninth president in October of last year, after receiving more than 700,000 first-preference votes.