Charity helps man facing repossession to keep his home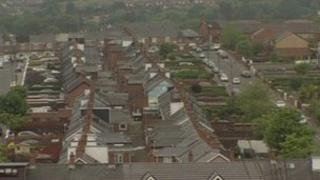 David is trying to get over the effects of the flu, but is feeling miserable.
It has come at a time when he thought he could not feel much worse.
Last year, he almost lost his family home when he fell £6,000 into arrears on his mortgage.
"I was injured at work and off on sick pay," he said.
"I buried my head in the sand like an ostrich when the letters started coming in."
The lender moved quickly to repossess David's house, but there is a history here.
David had also fallen behind on his payments four years ago when he lost his income due to the recession.
"I was self-employed and doing well, then everything went pear-shaped," he said.
"I was out of work and instead of doing the right thing and getting in touch with the mortgage company, I just hoped the problems would go away. I got depressed and couldn't sleep."
With just a week to go before the court hearing that would have granted repossession of his home, David finally asked for help.
Then, and again more recently, he put his problems into the hands of the charities Advice NI and the Housing Rights Service.
They accompanied him to court and paid for his legal representation.
Thanks to their intervention on both occasions, David was able to negotiate new arrangements with his lender and retain his home.
"You don't have to go through this on your own," he added.
"I was surprised that I could get help that didn't cost me anything. Without them, I'd be homeless, or in temporary rented accommodation."
Surge in cases
The Housing Rights Service helps hundreds of homeowners like David every year.
And right now, it is busier than ever.
At the High Court in Belfast, in the six months between April and September 2010, mortgage lenders made more than 4,700 applications for enforcement of home repossession orders.
In the same period last year, this figure rose by over 1700 - a 37% increase.
And there was a surge in the actual number of cases that went as far as repossession - the total went up by almost 50% during the same period.
Housing Rights Service director Janet Hunter said Northern Ireland has the highest level of house repossession activity anywhere in the UK.
"We are moving in a different direction. In England, Scotland and Wales they have seen a decrease in repossession, whereas we are having nearly a year-on-year increase," she said.
And the trend is not the only difference between Northern Ireland and other UK regions.
Homeowners who get into difficulty here do not have the same "safety nets" as their counterparts in Great Britain.
Mortgage rescue schemes are available in Scotland, England and Wales. While they differ slightly, overall they aim to enable people to stay in their homes either as a social housing tenant or as a part-owner by retaining an equity share.
In England, the government recently allocated £20m to local authorities to be distributed as small interest-free loans of less than £5,000, to reduce or clear mortgage arrears.
The Housing Rights Service recently briefed the assembly's social development committee about the difficulties facing homeowners due to the recession, rising unemployment and changes to welfare benefits.
Collective action
Tumbling house values mean that many people find themselves in a situation of negative equity and can see no way of getting out of debt.
"It's fair to say that the politicians share our concerns and they recognise the problems, because these are the problems that their own constituents are facing," Ms Hunter said.
"But what we really need to see is some collective action on behalf of our executive here locally.
"We hope that the executive will take the opportunity in the programme for government to introduce initiatives here which would help to mitigate the impact for people here in Northern Ireland."
The Department for Social Development (DSD) has given half a million pounds in funding to the Housing Rights Service but seems at odds with the organisation.
The minister, Nelson McCausland, has previously expressed support for the idea of a mortgage rescue scheme.
However, DSD told the BBC in a statement that Mr McCausland "believes that it would either help only a small proportion of those facing repossession or would be extremely expensive to operate".
"So it seems unlikely that the department is planning to replicate the schemes currently available in the rest of the UK," it said.
"He also recognises that when allocating money, the executive must weigh-up other needs, such as those presented by education and health."
The Mortgage Debt Advice Service can be contacted on 0300 323 0310
The Sunday Politics Show is on BBC1 at 11:30 GMT