David Ford working to improve quality of police files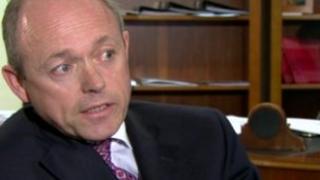 The Justice Minister David Ford has said he is working to improve the quality of police files sent to the prosecution service in the run-up to trials.
It follows criticism from the director of public prosecutions.
Barra McGrory said about half the files on serious crimes compiled by the PSNI do not have enough information.
David Ford said there have been improvements, but more work needs to be done.
"I made the issue of speeding up justice one of my priorities when I took office nearly two years ago," he said.
"That's why I set up a group which we've had judicial involvement with, alongside the key top people in all the agencies, to see how we address this issue of delay and one of the key issues is getting better working between the police and the PPS."
Mr McGrory said he is reviewing the flow of information from the PSNI.
Assistant Chief Constable George Hamilton said internal improvements were being addressed.
He said the category of the files Mr McGrory was referring to affected about 3,000 cases.
"I accept there are issues we need to address internally with the quality of files in some serious cases, but it's not all cases - the majority of the cases affected are middle band cases," he added.
"There are also logistical issues, not just quality issues with the files and I think the interface between how we work together could be improved."
More than 60,000 files are sent to the Public Prosecution Service (PPS) by the police each year.