Tribute to Omagh bomb victim's husband Laurence Rush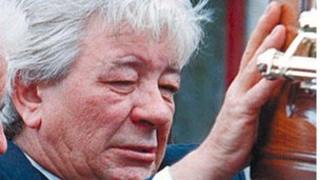 A spokesman for families who lost loved ones in the Omagh bombing has paid tribute to Laurence Rushe who passed away on Sunday.
The 70-year-old died at Knockmoyle Lodge nursing home outside Omagh.
Mr Rushe's wife, Elizabeth, was among 29 people and two unborn twins killed in the August 1998 atrocity which was carried out by the Real IRA.
Michael Gallagher, who lost his son, Aidan, said Mr Rushe never got over losing his wife.
"He was very bright, he was very intelligent, he was a very creative person and he could have been very good company to be in... that's the sad thing about how these things develop, you don't see that other side," he said.
"This event totally destroyed his life - he was almost sixty years with Libby and to have that instant separation, I think, was just more than he could bear."
Following the atrocity, Mr Rushe became a fierce campaigner for justice for the victims of the bombing.
"He was driven to try and find answers and that was something that really consumed his life," Mr Gallagher said.
"He went on later to take out a civil action against the chief constable and the secretary of state."
"There's many funny stories I could tell you; he was very challenging and could have been somebody that was very difficult to deal with... he was a character in his own right."
Elizabeth Rushe was serving customers in the family-run shop in Market Street in Omagh, when she was killed.
Laurence and Elizabeth had been together since they were teenagers. He identified her body on the day after the explosion.
Speaking at the time, Mr Rushe said: "They haven't just destroyed my wife, they have destroyed me."
"I have lost not only my wife, I have lost my soul mate," he said at the time.
Mr Gallagher said his friend would still want answers.
"Laurence would want to know the truth, those answers that he pursued over the past 13 years, he would want those answers to come out, he would want the truth to be known about Omagh... and like all of us he always wanted the people responsible for this horrendous bomb to be brought before the courts and be properly dealt with."
Mr Rushe was being cared for in the nursing home after suffering a stroke in recent years and died surrounded by his family.