NI Executive funds cut to 'hit dental services'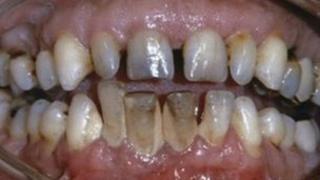 Dental services in Northern Ireland could deteriorate if the executive proceeds with plans to cut funds, the British Dental Association has warned.
The warning comes weeks after reports that NI has the worst teeth in the UK.
Claudette Christie, national director of the BDA in Northern Ireland, said the cuts would mean a 6% reduction in dental service funding.
She said the vast majority of people depended on National Health Service dentists.
"The cuts would reduce some of the treatments available to the patients, most notably how frequently you could have your teeth cleaned at the dentist," Ms Christie said.
"That would go back to once a year from four times a year.
'No longer available'
"That's a very significant change... and it's important that you do that to manage and maintain your oral health."
She said other changes would mean that treatments currently routinely available would no longer be routinely available.
"The dentist would have to ask the health service in advance if they could do them and that would introduce a delay for patients and we think all of that would disadvantage our patients' oral health," she said.
"If you take money away, naturally jobs will follow and resources will follow."
In December, a Queen's University Belfast survey found that Northern Ireland teenagers had some of the highest levels of tooth decay in Europe.
The report said that young people, particularly in deprived areas, were twice as likely to have permanent damage as those elsewhere.
It said teenagers in affluent areas were having braces fitted and aesthetic treatments.
The British Dental Association said a dental health strategy, published five years ago, must be implemented.