First Trust Bank staff wait to hear of job cuts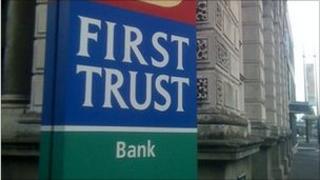 Staff at the First Trust Bank in Northern Ireland are expected to be told the extent of long-awaited job cuts later this month.
Last April, Allied Irish Bank (AIB) - the parent company of Northern-based First Trust - warned it was planning to shed 2,000 staff at both banks.
Unions fear up to 400 jobs in NI could be at risk when the redundancy programme is announced.
First Trust has 48 branches in Northern Ireland.
AIB (UK), of which First Trust is part of, employs 2,300 staff according to the most recent figures available.
On Monday, AIB said it was still in discussions with the Department of Finance in Dublin over the extent of the impending restructuring package that will lead to job losses.
AIB is owned by the Irish government.
A spokesperson said: "Any talk of lay-offs in any areas is speculation at the moment. The terms of the redundancy package have not been announced yet, so we don't have the details."
Negotiations
In a letter sent to all staff last month AIB chief executive David Duffy said: "I am aware that the long wait for the negotiation process on severance terms to conclude has fuelled considerable speculation and understandable impatience among many of you for an official announcement from AIB.
"We are not yet in a position to make an announcement but I believe we are now close to reaching agreement. We are working to finalise terms with the Department of Finance and discussing issues with the IBOA.
"The terms will also have to be reconciled by the Department of Finance with other banks in a similar situation. I hope to have the final issues resolved soon and expect to be able to communicate with you all in detail within the next month.
"This timing is of course contingent upon the actions of other parties but we are managing the process extremely tightly to increase our chances of meeting this time frame. I recognise how important this matter is for all staff and for the future of the bank.
"Please be assured that we are doing all that we can to finalise it at the earliest possible date."