Northern Ireland Assembly congratulates Rory McIlroy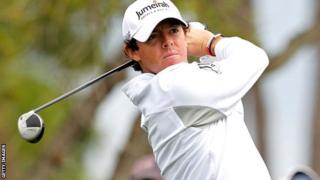 Northern Ireland assembly members have paid tribute to Rory McIlory becoming the world's number one golfer.
McIlroy moved top of the world rankings after winning the Honda Classic by two strokes in Florida on Sunday.
The 22-year-old from Holywood, County Down, dropped only one shot in a final round of 69 for a 12-under-par total.
The UUP's Mike Nesbitt raised the achievement as the 'matter of the day' at the assembly and described McIlroy as a "global superstar".
Sinn Fein's Pat Sheehan said McIlroy had showed he had the "mental toughness" required.
Trevor Lunn of the Alliance Party said: "This is where he belongs.
"He is now the man in golf and will be for many years, he has proved his worth and he will continue to win tournaments."
Earlier, First Minister Peter Robinson paid tribute to the golfer's achievement.
"To have earned this honour at the young age of 22 is truly remarkable and there is no doubting that Rory is a very special talent," he said.
"Everyone in Northern Ireland is immensely proud of his achievements. His success is well merited and I wish him continued glory."
His congratulations were echoed by the Deputy First Minister Martin McGuinness.
"When he narrowly missed out on the top spot last week, we knew that Rory would bounce back and he's done that in style over the past four days," he said.
Members also congratulated Northern Ireland's Mark Allen who clinched his first ranking title at the weekend with a victory over Stephen Lee at the World Open snooker final in China.