Martin McGuinness watches game at Windsor Park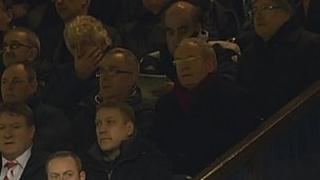 Deputy First Minister Martin McGuinness has attended a football match at Windsor Park in Belfast.
The Sinn Fein MP was alongside party colleague Raymond McCartney.
They were watching Derry City take on Linfield in the first leg of the quarter-final of the Setanta Sports Cup on Monday night.
Speaking to Good Morning Ulster, Mr McGuinness said he was looking forward to returning to Windsor Park to watch Northern Ireland play.
"I think everybody that understands the mindset of the republican community clearly understands that the vast majority of the people give their support to players south of the border," he said.
"In my perspective you can absolutely give your support to the team that plays south of the border as I do, I was at the last Ireland match just a few days, but also give support to ordinary footballers who come from different parts of our country, who make their own decisions to play for a particular team.
"Why should I not support them as well?"
Leadership
The Monday night game was Mr McGuinness's first time at Windsor Park since he was a child.
"I have very fond memories of travelling on a train from Derry with my late father and brother Paul to see Derry take on Glentoran in the early 60s," he said.
"It was a very pleasant experience to be there last night and I want to pay tribute to the board of Linfield and everyone associated with the club for the very warm welcome that I received and it's very clearly a sign of the changing times.
"And it was good to be there to support Declan Devine and the lads from Derry against Linfield."
The deputy first minister said sporting matches were unifying occasions for many people.
"It's wonderful that Peter Robinson and myself are able to give leadership and clearly show that we want to see sport being unified and see community relationships built up though sport," he said.
"I think we should do everything possible to take the politics out of it.
"Talking as a sports fan it is my very strong view that soccer on the island would be much better served it we had an all-Ireland league and one international team.
"But that is a matter for the footballing authorities, that's only my opinion as a true sports fan."
The final score in the game was 1-1.