New health plans may discriminate says Margaret Ritchie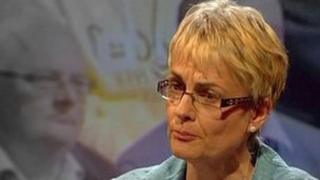 Plans to redeploy health administration staff may discriminate against women, according to the South Down MP.
Margaret Ritchie has called for the Equality Commission to assess if the plans are justified.
Last year it was announced that four centres of expertise are to be created which could mean some workers having to commute an extra 100 miles.
In Downpatrick, that will mean around 35 finance workers, who are mostly women, relocating to Ballymena.
Currently each of the five health trusts has its own administration department which includes payroll and human resources.
But the Department of Health now wants to centralise the services, creating four centres of expertise instead.
Despite announcing a three-month consultation period on the proposed changes, the Department of Health advertised the jobs in the new centres.
Following complaints that the consultation was still ongoing the job advertisements were withdrawn.
Ms Ritchie said the Equality Commission must look into the plan.
"For example, if you take Downpatrick, 35 staff are being asked to move from an area where they have excelled to Ballymena, some distance from their homes and work locations.
"It's totally inequitable, totally unfair and inappropriate."
In response, the Department of Health issued a statement which said that the job advertisements were unrelated to the redeployment proposals.
"The Minister hopes shortly to announce his decision on the model and location of shared services, having reflected on the views expressed in the consultation," it said.
"In order to avoid needless anxiety the Business Services Organisation (BSO) has now suspended this recruitment until a decision has been taken on shared services."