Couple charged with Christopher Mackin murder in Belfast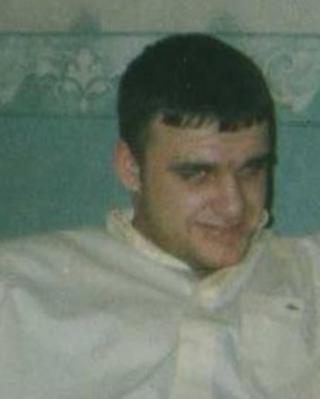 A husband and wife have been remanded in custody charged with the murder of a man in Belfast.
Charles Stephen Valliday, 40, and Julie-Ann Valliday, 35, of Powerscourt Place, Belfast, are accused of killing Christopher Mackin last Thursday.
The 31-year-old was shot up to four times at College Square North. A police officer told Belfast Magistrates' Court that the couple "worked together".
He said Mrs Valliday "lured" the victim into a trap.
The court heard that 15 cartridges were found at the scene of the murder.
A detective inspector said in court that Mr Valliday is a major drug dealer in Belfast and his wife is a partner in the enterprise.
He said Mrs Valliday had been in contact with Mr Mackin 50 times in the three and a half hours before the murder by text and by phone call.
Victim's suspicions
"The nature of these calls and contacts were to arrange a meeting between the co-accused (Mrs Valliday) and the deceased," the detective said.
"We can see from the deceased's text messages that he had some concerns and suspected he may have been set up for something, but nevertheless went on to have the meeting.
"He left his home address telling his mother he was going to meet a female friend, and approximately five minutes from leaving the house he was dead."
He also said there was an automatic weapon "still out there" and that was one of the reasons why bail was opposed.
The detective inspector said there was evidence of a Renault Clio being in the Divis Street area just minutes before the shooting.
He claimed Julie Ann Valliday could be seen driving it, although her passenger could not be identified.
A convoy of cars allegedly seen travelling together on the night of the murder forms another part of the investigation, the court heard.
Swab tests are also being carried out on a discharge residue sample found on a bed sheet in the suspects' home.
The detective said: "We hope to match that to the 15 empty cases found at the scene."
'Cobbled together'
Lawyers for both accused attacked the strength of the case against the defendants.
Billy McNulty, for Mr Valliday, said: "This charge was hastily cobbled together, based on speculation, rumour, innuendo, call it what you like, but no concrete evidence to link Mr Valliday to the charge."
Opposing bail for his client, the detective told the court he has connections in the Irish Republic and access to substantial sums of cash which would enable him to flee.
Julie Ann Valliday's lawyer, Paul McCrudden, stressed there was no evidence connecting her to the scene of the killing.
"This case is founded, in my opinion, on police speculation, on backstreet rumour and on salacious gossip," he said.
A 27-year-old man arrested on Sunday is still being questioned about the killing. A 24-year-old woman was released unconditionally.