Man arrested over Ian Paisley 'confidentiality breach' released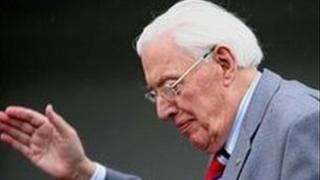 A man arrested over an alleged breach of patient confidentiality while former DUP leader Ian Paisley was in hospital has been released on police bail.
The 41-year-old man, a hospital worker, allegedly took a photograph of Mr Paisley when he was a patient in the Ulster Hospital in Dundonald.
The former Northern Ireland first minister was being treated for heart problems.
He has since left hospital and is recovering at home.
Lord Bannside, who is 85, stood down as first minister in 2008 and ended 60 years of full-time ministry in January.