5,000 applicants for new prison officer jobs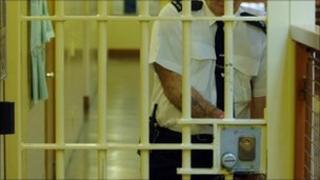 None of the prison officers leaving the prison service under the early exit scheme have applied to be re-employed.
Justice Minister David Ford told MLAs that 151 officers have opted to leave the Prison Service early.
There have been 5,000 applicants for the 200 custody officer jobs but none by those taking early retirement.
Mr Ford said the legal advice he had received had indicated that a ban on current officers applying would be discriminatory.
Sinn Fein's Oliver McMullan had asked the minister for a guarantee that retiring prison officers would not be eligible to apply for the new jobs.
Basil McCrea of the UUP was concerned about the announcement that the director general of the Prison Service, Colin McConnell, was leaving to take a post in Scotland.
Mr Ford paid tribute to Mr McConnell's leading role in prison reform. The minister said the director general's departure would not change the reform process.
The SDLP's Alban Maginness said he was not sure the departure would be anything but a blow to the prison service.
Sydney Anderson of the DUP said prison officers had been left devastated by the "mismanagement" of the scheme, with 300 applicants still being told they were under consideration.
The minister said they could not expect to see 500 officers leave the service on the same day.
Sinn Fein's Pat Doherty asked about the latest developments in the use of technology for full-body searching.
Mr Doherty made particular reference to search machines in use at an airport in Chicago.
Mr Ford replied that he was not sure the machines used in Chicago were licensed for use in the UK, or Europe.