What the papers say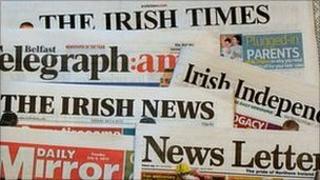 Journalist Mike Philpott takes a look at what is making the headlines in Wednesday's newspapers.
Education is top of the agenda on a couple of the local front pages.
TheIrish Newshas a picture of a school cloakroom, empty except for one coat and hat, as it reports that an audit of Northern Ireland's education system has highlighted schools that are suffering from falling standards, falling pupil numbers and poor finances.
The paper says most secondaries and half of all primaries are "under stress".
TheBelfast Telegraphdescribes it as a crisis, and says some schools will have to merge or close.
In its comment column, it sees it as evidence that Northern Ireland can no longer afford two "parallel education systems".
It believes shared education would "maximise scarce resources". The alternative, it says, is patching up the system - and that is simply not good enough.
The Telegraph also has a front page story about what it sees as a crisis in the Health Service, after an 86 year-old woman spent 34 hours on a hospital trolley.
TheNews Letter'smain story is illustrated with a stark picture of the fire-damaged house in which 78 year-old Sadie Ferguson died in Dromara.
There are a couple of contrasting stories in the Dublin papers.
TheIrish Independentreports that the former Fine Gael minister Ivan Yates faces what it calls "a final crunch meeting" with his creditors next week as they attempt to recover some of the 6m euros he owes them.
It points out that Mr Yates once ran a bookmaking business with a turnover of nearly 200m euro.
The dominant feature on the front of theIrish Timesis a picture of three-year-old Calum Geary from County Cork, who has had a "bionic ear" implanted in a pioneering operation in Manchester.
When the device is switched on in six weeks, Calum will be able to hear for the first time since he was born. The paper reports that he is one of 141 children worldwide to benefit from the electronic device.
Mansion tax
Tensions within the coalition government are the subject of much discussion in London.
The man who crops up in most of the stories is Business Secretary Vince Cable. His criticism of the government as "lacking in vision and ambition" is described in theTimesas "withering".
But theDaily Telegraphsays he is portraying himself as an onlooker at a particularly messy car crash, when in fact he was one of those behind the wheel.
As for his other suggestion that the government should introduce a "mansion tax" on expensive houses, theDaily Maildismisses it as "unworkable and vindictive" and says it was born of "the politics of envy".
The Times feels the idea is a non-starter. But it predicts that the well-off will lose some tax relief on their pensions in the budget, in exchange for the scrapping of the 50p top rate of income tax.
Finally, a spilled coffee brings a bus to a sudden halt.
TheSunreports that when a woman spilled a third of a cup on a service in Bournemouth, the driver ordered everyone off on the grounds that it was a dangerous situation.
A specialist cleaner was called in and the passengers had to wait for another bus.
One of those affected tells the paper that the spill could have been mopped up with a couple of tissues.
TheDaily Star'sheadline refers to the fact that the service was late, spelling the word with two Ts and turning it into latte.