Princess Anne in Northern Ireland for a one-day visit.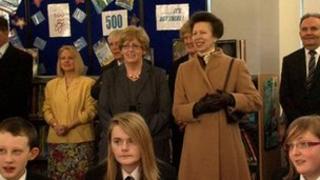 Princess Anne has spent the day in Northern Ireland on a series of engagements.
Her visit began at the Pony Club's national conference at the Waterfront Hall in Belfast. She has been Royal patron of the club since 2009.
The Princess Royal was greeted by the Vice Lord-Lieutenant of the County Borough of Belfast, Sir Nigel Hamilton.
She later addressed 350 delegates inside the hall.
In Northern Ireland, the Pony Club has 11 branches with 981 members.
The royal visitor listened to a number of presentations - which gave an insight into the work of the Pony Club.
One of the presentations was from two students from County Down who have been successful in the sport of tetrathlon, which involves shooting, swimming, running and horse running.
Equestrian sport has been a lifelong interest for the Princess Royal.
The Pony Club is the largest equestrian youth organisation in the world with 110,000 members world-wide.
Later, a number of well-wishers met the princess as she arrived in Holywood.
At the local library she met various dignitaries and also spent some time chatting to local school children who had gathered for a special project organised by Libraries NI.
Her Royal Highness laughed with the pupils from Sullivan Upper and the Priory Integrated schools, when they witnessed a tiny explosion as part of a science demonstration.