Scottish independence 'no influence' on corporation tax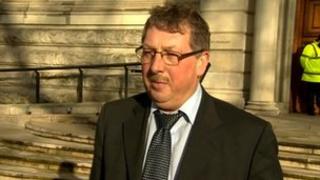 Concerns over Scottish independence should not influence the treasury's decision about giving Stormont power to set corporation tax, NI finance minister Sammy Wilson has said.
His comments followed talks at the treasury earlier on Wednesday.
The discussions involved the first and deputy first ministers and the Exchequer Secretary David Gauke.
Mr Wilson said NI had urgent priorities of its own regarding attracting inward investment.
Secretary of State Owen Paterson denied the debate over Scottish devolution was weighing on the treasury's mind.
He said the UK government remained on track to make a decision over corporation tax by the summer.
Speaking during a Westminster Hall debate last week, Sammy Wilson gave a figure of £500m as the potential annual price for devolving corporation tax - that represents a £200m increase on some of the original estimates of the cost to the block grant.
Questioned about whether devolving the tax would be worth such a price tag, Mr Wilson said on Wednesday he would not give away Stormont's financial bottom line on the issue.