Jim Shannon uses parliamentary privilege to name mayor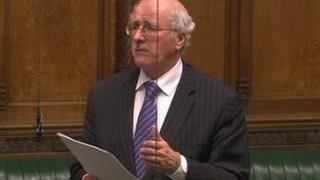 A DUP MP has used parliamentary privilege to name a man he believes was responsible for the murder of a part-time UDR member in 1982.
Hugh 'Lexie' Cummings from Artigarvan outside Strabane was shot in the back and chest at close range by the IRA.
Jim Shannon asked why William Gerard McMonagle, who is now the Mayor of Letterkenny in the Irish Republic, did not stand trial.
Mr McMonagle declined to comment before studying the MP's speech.
The Historical Enquiries Team (HET) is responsible for re-examining all deaths attributable to the Troubles between 1968 and 1998.
Mr Shannon, who is MP for Strangford, asked: "Why did William Gerard McMonagle not stand trial for the murder of Lexie Cummings?
"How was Willam Gerard McMonagle allowed to travel across the border to safety and freedom and begin a new life which would lead him to today being the Mayor of Letterkenny?"
He also said: "There are too many questions that HET due to scope and resources could not answer but which the family deserved an answer to.
"They turn on the news and they see the Mayor of Letterkenny, Gerry McMonagle, having ran from justice in Northern Ireland after being proven to have been at the scene with gun powder residue on him, embracing his freedom and his position in life.
"The family visit the grave of a true gentleman Lexie Cummings with questions in their minds and grief in their hearts.
"Who can answer these questions and give the family closure?"