Concerns revealed over £10m housing scheme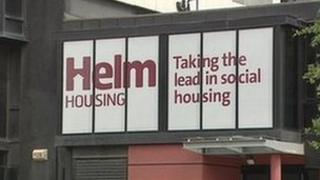 More details have emerged about a failed, multi-million pound public housing scheme, with emails obtained by the BBC showing concerns about the project at various stages.
Helm Housing was given £8m of taxpayer funds towards its £10m purchase of a site at Great George's Street in Belfast.
After five years it has failed to deliver on a promised 200 homes.
The scheme was never submitted for planning.
But since 2010 Helm has been receiving rental income from the site by leasing it to a carpark operator, but the government has not asked for the return of the housing capital, plus interest.
Email correspondence between civil servants as far back as June 2010 read: "It is untenable that we have expended £8m on land that is not progressing towards development and we want to avoid any criticism of inaction."
Helm bought the land in 2007 and under guidelines the public funds can be clawed back if a project fails to start within three years.
However, the solution being explored is a land swap.
The proposal would see Helm exchange its Great George's site for land owned by the Department of Regional Development nearby at Corporation Street.
Catch-22
But there are reservations.
An internal DSD email, obtained under the Freedom of Information Act, argued "the swap might not be the best idea because the Corporation Street site is still in a fairly road congested area."
It also stated that accommodation - of the type Helm proposed - is not "family-friendly."
Part of the reason why Helm has failed to develop Great George's Street is because of the proximity of the M2 and M3 and plans to alter road lay-outs.
However, there were questions raised at the outset by both the NI Housing Executive and the Department of Finance and Personnel, although both eventually signed-off on the land purchase.
The Executive expressed concern at the location and scale of the project, saying it was a '"catch-22" situation because the density of housing was made necessary by the purchase price.
The DFP also said the style of development proposed had not been successful in the social housing sector in the past and was unpopular with local residents' groups.
But an email from March 2007 reveals the scheme was endorsed at ministerial level.
"This is a priority of the minister's given the loss of the adjoining (social housing) site at Nelson Street," wrote a civil servant.
She added: "There is little risk with this acquisition."