Two men face Omagh court over Tyrone Ladies GAA fracas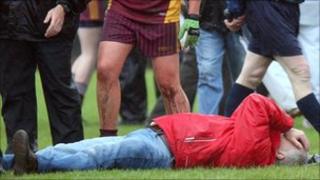 A man who head butted a senior GAA official after a match in County Tyrone last year has had an assault charge against him dismissed.
The charge against Patrick Diggan, 47, of Creggan Road, Carrickmore, was dropped after the magistrate accepted he had acted in self defence.
Another man who admitted attacking the referee at the Tyrone Ladies Senior Final last June was fined £300.
Bernard McAleer, 59, of Gortscraheen Road, Pomeroy, admitted common assault.
On Thursday, Omagh Magistrates Court was told that the incidents took place after the final whistle of the match between St Macartan's and Carrickmore at Beragh on 24 June 2011.
McAleer's daughter was playing for Carrickmore in the final and the court was told he had a lifelong passion and love for gaelic games.
During the game he was stopped by stewards from running on to the pitch, but at the final whistle he ran after the referee, Simon Brady, and attacked him. He has since been banned from matches for life.
Fining him, the magistrate said it was a nasty incident that had placed an official in fear of violence.
Meanwhile, the court heard that Mr Diggan was assistant manager of Carrickmore Ladies.
He was charged with assaulting the chairperson of the Tyrone Ladies GFA, Martin Conway.
Mr Conway said he had gone to the aid of the referee who was lying on the pitch. He said there was a lot of jostling and the atmosphere was terrifying.
However, the magistrate accepted Mr Diggan's assertion that he had felt threatened by Mr Conway and acted in self defence. The charge against him was dismissed.
He told the court that he had also been given a lifetime ban by the GAA.