Habitual robber gets eight years in jail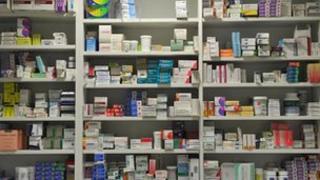 An habitual criminal who robbed three chemists, one of them twice, all at knifepoint in the space of a month was jailed on Friday for eight years.
A judge branded Anthony McCrea, 26, from Oldpark Road in north Belfast, as dangerous.
Belfast Crown Court heard that within weeks of being released from jail following an earlier robbery McCrea began a crime spree.
This resulted in his 16th, 17th, 18th and 19th robbery convictions.
The court heard that all the robberies, committed on 26 February at Randalstown Pharmacy, 2 and 11 March at Neeson's Pharmacy on the Cliftonville Road in Belfast, and on 28 March at Woodburn Pharmacy, followed the same general pattern.
In all of the robberies, a knife-wielding McCrea entered the shops early in the morning shouting for money and prescription tranquilisers to be handed over.
Prosecuting lawyers said McCrea did not wear any disguises during any of the "frightening incidents" and was later identified from CCTV footage by either his victims or police who knew him.
Crown lawyer David Cartmill told the court that during one of the robberies at Neeson's chemists, McCrea "certainly gave the impression that he knew what he wanted and would have used the knife to get it".
The sum total of the robberies, the court heard, netted McCrea around £1,500 and an unknown quantity of pills such as diazepam, temazepam, morphine and dihydrocodeine.
When arrested, McCrea refused to answer police questions but later pleaded guilty to four counts of robbery, possessing a knife, obstructing police by giving a false name and causing criminal damage to a window in a PSNI custody suite.
Defence QC Gavan Duffy revealed that McCrea had first exhibited behavioural problems when he was just nine-years-old, began drinking and smoking around that time and had been expelled from three schools.
He said that looking at his criminal record, McCrea had probably not been free from custody for more than six months at a time in the last 13 years, adding that he committed the robberies to feed his own drug addictions.
Jailing McCrea for eight years and ordering that he be subject to an extra two years on licence, Judge Patrick Lynch QC said he was satisfied that McCrea did pose a significant threat to public safety.
"The courts have been at pains to emphasise over the years that we will deal with such offences very harshly," warned the judge.