Government contracts received after MoD officials paid, court hears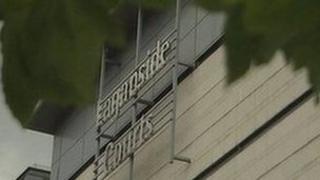 A businessman who paid two Ministry of Defence officials more than £80,000, received more than £16m in government contracts, a court has heard.
However, the prosecuting lawyer for 73-year-old James Daniel McGeown said there was no extra cost to the public.
Mr McGeown of Cadogan Park, Belfast, had already pleaded guilty to 16 charges of corruption.
These involved the payments to MoD officials William Ronnie Marks and John Symington.
At the time of the offences between 1998 and 2004, Mr McGeown was owner of VIS Securities Solutions Ltd.
The company paid Mr Marks £66,500 and Mr Symington £18,000 for what was described as "insider information".
A bankrupted Mr Marks, from Richmond Avenue, Lisburn, was a deputy senior commercial officer at the time.
He faces a sentence for receiving the corrupt payments and three separate charges of money laundering.
Mr Symington, from Laurel Hill Road, Lisburn, a former senior quantity surveyor, had also pleaded guilty to receiving corrupt payments.
Mr Justice McLaughlin also heard that the court will be asked to make orders under the proceeds of crimes.
In Mr McGeown's case the prosecution will be asking the court to order him to pay £1m by way of confiscation.
In the cases of Marks and Symington, they will be asked to pay any monies they received plus interest.
Defence QC John McCrudden for McGeown, said that despite the circumstantial nature of the case against him he had chosen to plead guilty which quite clearly had saved an immense amount of court time, services and public money.
McGeown, whom he revealed was shot in the chest leaving an army base in 1974, now planned to "divest himself" of all his companies.
In addition he will loose a £1m by way of the confiscation order, monies not easy to come by in the current economic climate.
Mr McCrudden said that the one time "lowly tea boy", whose businesses employ 60 people, has had the immense burden of his case hanging over him and his family for a decade, and in the circumstances the case should be viewed as "wholly exceptional".
Barry Macdonald QC for Marks, said he too deserved credit for pleading guilty to a case where the evidence was full of obvious gaps, tenuous and circumstantial.
Describing Marks as really a "rubber stamp by and large", Mr Macdonald said there was no evidence to suggest he did anything to favour VIS or McGeown and any role he had was "very limited".
However, he added that while there was no loss to the MoD or the taxpayer, Marks now "recognises he should not have done what he did".
"This was the biggest mistake of his life," said Mr Macdonald, adding that "the benefits were short lived and he is now in financial ruin, saddled with debts he can never hope to repay".
"Far from being enriched from this affair, he has been irretrievably impoverished .... he is a broken man."
Mr Macdonald said Marks had been disowned by both family and friends, and having lost his wife, his job, his reputation and home, his future looked bleak and he would continue to pay a very heavy price for the rest of his life.
Defence QC Paul Ramsey for Symington said his plea was quite cataclysmic for him to make, although the admissions were of great benefit to the authorities both in time and savings.
Symington's once exemplary career with the MoD, he added, which saw him serve in the Falklands, Cyprus and Berlin, was "now blotted" by his offending.
Mr Ramsey said given the fact that he was going to be asked to repay what he had received, plus interest, that too would be an added "formidable penalty".