Car hijacker receives two year jail sentence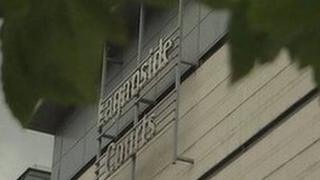 A man who stole a woman's car, after dragging her from it by the throat, has been jailed for two years.
Belfast Crown Court heard how Anthony McKeown, 27, of Church Crescent in Newtownabbey, attacked his victim at Europa Bus Station on 2 May 2011.
He was identified through CCTV footage and later admitted what he had done.
Judge Patrick Lynch said the "absolutely intolerable" incident warranted a term closer to five years.
Instead, he ordered that McKeown serve the two year term consecutive to the five year term he is currently serving for robbery.
He was also banned from driving for four years.
Prosecution lawyer Peter Magill said McKeown had pulled the woman from her car before throwing her onto the pavement.
He said the accused had crashed the car into a parked bus before he drove off.
The car was later found "pretty well wrecked" on the Belfast Road in Mallusk.
In all, McKeown pleaded guilty to offences of hijacking, causing actual bodily harm, criminal damage, dangerous driving, driving while disqualified and without insurance.
Defence lawyer Martin Morgan said his client had been drinking all day when he hijacked the car but that now he was "mortified and embarrassed by his behaviour".
Judge Lynch issued a warning that "the message must go out to people involved in hijacking" that such "reprehensible behaviour will not be tolerated and will attract lengthy sentences of imprisonment to reflect the gravity of the offence itself and to deter others".