Ian Paisley recovering well after hospital stay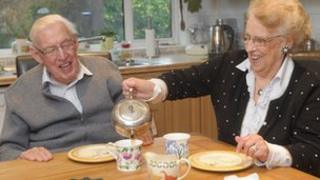 The former Northern Ireland first minister Ian Paisley is recovering well at home after his recent treatment in hospital for a heart condition.
Lord Bannside was admitted to the Ulster Hospital on 5 February and spent almost two weeks in intensive care.
He was released from hospital on 28 February.
On Friday, the family released some pictures. They show the 85-year-old relaxing at home with his wife Eileen.
The former moderator of the Free Presbyterian Church fell ill less than a fortnight after preaching his final sermon as a church minister.
Lord Bannside stood down as first minister in 2008 and ended 60 years of full-time ministry in January.