Belfast schoolboys contacted online to perform sex acts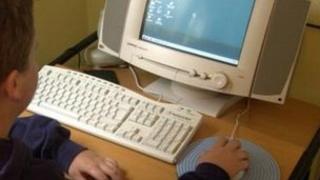 Police investigating allegations that a number of schoolboys in the Belfast area were contacted online by a person inciting them to perform sexual acts have arrested an 18-year-old man.
Parents of some pupils were contacted by email about the threat.
The police asked principals to make schoolboys and their parents, aware of the danger.
The man has been arrested on suspicion of possession of indecent images of children.
It followed a search of a property in north Belfast.
A number of items have been taken away for examination.
Pupils have been warned to report anything suspicious to the police.
Dangers
A letter to the principal of a large Belfast grammar school from the PSNI, released through the Belfast Education and Library Board, said that the police were investigating allegations that a person calling themselves 'Sarah Louise' has been communicating via Facebook and text messages with a number of boys aged between 11 and 15 in the greater Belfast and surrounding area.
The person has been inciting the boys to perform sexual acts which they then transmit online.
The PSNI also asked principals to "make the boys in your school aware of the dangers by either speaking to them directly about avoiding communication with any Sarah Louise they do not know".
In a letter sent to parents, the school said the issue would be raised with the boys "sensitively" in a special assembly to "provide guidance, reassurance and support".
The school said it regularly covered the safe use of the internet with its pupils and would continue to do so.