Police hunt gang after man raped in Twinbrook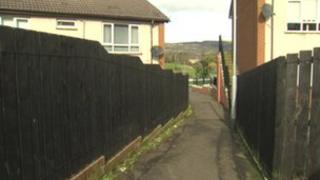 The police are hunting a gang involved in the rape of a man in west Belfast.
The 26-year-old was walking in the Aspen Walk area of Twinbrook when he was approached by a stranger and forced into an alleyway.
A group of men then held him down as the man sexually assaulted him.
Councillor Charlene O'Hara said that type of attack on a man was unheard of in the area. "It's worrying because people came together to do that sort of attack," she said.
"It's a serious, serious sexual attack. People like that really need to be taken off our streets.
"Rape is probably one of the worst crimes that can be committed because the victims have to live with it afterwards. It must be such a traumatic and difficult time for that young man and his family."
Police are appealing for anyone in the area between 23:00 GMT on Thursday and 02:00 GMT on Friday to contact them.