Police treat Newtownards fire as 'suspicious'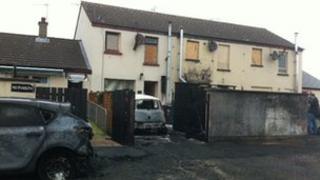 A fire in Newtownards overnight is being treated as suspicious by police.
Three oil tanks, two cars, a garden shed and fences were on fire when fire crews arrived at the scene at Manor Park at about 04:30 GMT on Sunday.
The two cars and the garden shed were destroyed. At least eight budgies inside the shed died. Four houses were damaged with broken windows and melted guttering.
Several people were also treated for the effects of breathing in smoke.
A number of neighbouring houses were also damaged. Windows smashed in some and guttering also melted in the heat.