UUP leadership contest 'at end of month'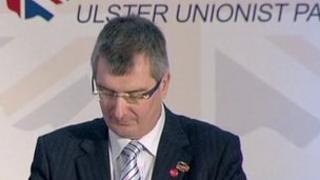 The Ulster Unionist Party has confirmed that it will elect a new leader later this month.
Tom Elliott resigned as leader last week.
He accused some members of the party of undermining his leadership.
Speaking on Sunday Politics, the UUP treasurer Mark Cosgrove said he expected the contest to go ahead on 31 March.
"The rules of the party are clear, we are a very democratic party so every year the leader has to stand for re-election, normally that is unopposed," he said.
"The motions for such a contest were already in place and there is absolutely no reason why the contest shouldn't and won't take place on 31 March."
The party's MEP Jim Nicholson said on Sunday he would not be running for the position of leader.