MP makes Derry MoD money call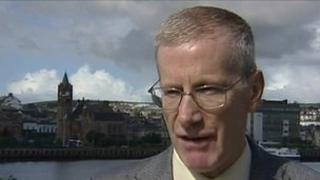 A DUP MP has said that former Ministry of Defence staff who worked in Ebrington Barracks in Londonderry are losing money that colleagues in other bases have received.
Gregory Campbell said they were being treated unfairly because of a loophole in what's called the Financial Recognition Award scheme.
Mr Campbell said the former staff could be losing out on thousands of pounds.
He has written to the Prime Minister, asking him to intervene.
Mr Campbell said: "Ministry of Defence civilian staff who worked in Ebrington Barracks Base, Londonderry, have not received the Financial Recognition Award given to civil servants who worked at MoD establishments in Northern Ireland and were made redundant during the period 1 August 2006 to 31 December 2008.
"Civilians who were employed in MoD establishments worked in exceptionally difficult circumstances and a number of their colleagues were murdered in the course of such work for the security forces."
Mr Campbell has also met with the Minister for Defence, Personnel, Welfare and Veterans, Andrew Robathan MP, about the issue.