13-year-old charged with rioting told not to enter NI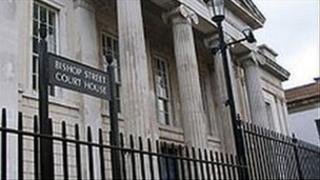 A 13-year-old school-boy from County Donegal has appeared at Londonderry Magistrates' Court.
He was charged with offences connected to disturbances in the Madams Bank Road area of the city on Sunday.
The schoolboy from Newtowncunningham is charged with committing riotous behaviour and with causing criminal damage to a police landrover.
He was released on bail and was told not to enter Northern Ireland except to attend court appearances.
District Judge Barney McElholm said he could not impose a curfew on the juvenile because he lived outside the jurisdiction but added that the juvenile's parents could impose their own curfew on him.
The court was cleared of members of the public in advance of the remand hearing. Seven members of the juvenile's family were allowed to remain in court for the hearing.
Police in Derry attended a report of a suspicious object shortly after 07:00 GMT on Sunday.
They discovered that a number of youths had started a fire at the junction of Madams Bank Road and Earhart Park.
Stones and missiles were thrown at police as they attempted to clear the road.
The 13-year-old, who has no previous convictions, was arrested and detained overnight in a cell at Strand Road police station.