New council charge of up to £360 for high hedge complaints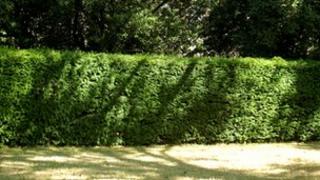 People who wish to make a complaint about a neighbour's high hedge face having to pay their local council an up-front fee of up to £360.
New legislation giving NI councils powers to deal with high hedge complaints takes effect on 31 March.
The cost will be transferred to the hedge owner if the complaint is upheld by council investigators.
Belfast City Council propose charging a fee of £350, while Derry City Council propose £360 to pursue a complaint.
Most other councils across Northern Ireland are expected to charge the maximum £360 fee.
Action
The new charges are a result of the High Hedges Act, which comes into effect on 31 March.
The act provides a mechanism for people suffering from the loss of light due to a neighbour's high hedge to ask their local council to investigate the matter.
It allows councils to charge a maximum up-front fee of £360 to pursue a complaint if an initial effort to resolve the matter informally is not successful.
This fee will be transferred to hedge owners if the complaint is upheld, and remedial action is required.
The hedge owner will also be responsible for the cost of any action to rectify the problem.
Most councils have still to formally set the level of fee they will charge, but Belfast City Council have set a "preferred fee" of £350. This fee is due to be ratified by the council before the end of the month.
Derry City Council are also due to confirm their fees by the end of March, while Lisburn City Council have proposed a £360 fee, as have Down District Council.