Audit suggests CCTV, Tannoy and hotline at fatal plunge bridge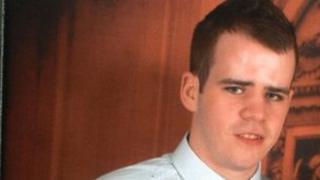 Enhanced CCTV, a telephone hotline and a tannoy public address system could be set up on a Belfast footbridge where a young man fell to his death.
Joby Murphy, 20, from Glengormley died after falling from the bridge at Lagan Weir on 26 January .
A government report has concluded that current life-saving equipment at either side of the bridge is sufficient.
Despite a plea from Joby's father, the report said putting lifebelts on the bridge would not be effective.
The audit, commissioned by the Department for Social Development ruled out closing the bridge. Investigators said it posed the least risk of deliberate entry into the water when compared to other bridges in the area.
They pointed out that it is the only bridge which has 24-hour manned CCTV coverage and said this could be linked with a police control centre to further improve communication.
They suggested enhanced training for staff to enable them to identify people in distress and alert emergency services using the Tannoy.
The safety audit of the weir was due for completion later this year but was brought forward following Mr Murphy's death.
Irresponsible
Social Development Minister Nelson McCausland said: "The two issues of safety around the Lagan Weir Footbridge and irresponsible drinks promotions have become interlinked in recent weeks so it is appropriate to launch them together.
"I have decided to publish the full Audit Report in order to reassure those members of the public who use the footbridge that my department's safety measures in the area fully comply with current bridge design and safety codes and the public can use the bridge with confidence. The report confirms this.
"One of the central issues of public concern was whether lifebuoys should be stationed on the footbridge itself as a potential rescue measure.
"The report, drawing from guidance issued by the Royal Society for the Prevention of Accidents and the views of the Northern Ireland Fire and Rescue Service, clearly states that the stationing of lifebuoys on the bridge itself is not an appropriate location. I am satisfied that this is the case."
Mr McCausland presented the audit to Mr Murphy's family on Friday.
Joby Murphy had been drinking vodka at £1 a shot before he fell into the River Lagan in January. At the time, his father criticised cheap drink deals.
The minister said he was also launching an eight-week consultation on regulations to ban cheap drinks promotions. It will begin on 12 March.
The type of promotions being discussed include "all you can drink for £20 including admission" and offering two or more products at a reduced price.
Copies of the Audit Report on the Lagan Weir Footbridge are available from theDepartment for Social Development website.