Danny Kennedy to stand for UUP leadership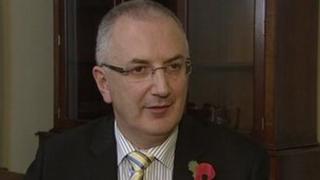 The BBC understands that the Regional Development Minister Danny Kennedy will stand for the UUP leadership.
Sources close to the Newry and Armagh MLA say he has "very clear majority support" within the Ulster Unionist assembly party.
The sources say Mr Kennedy also has substantial support from the party's peers and the MEP Jim Nicholson.
Candidates have until Friday to hand in their nomination papers, with the leadership election due on 31 March.
The Fermanagh MLA Tom Elliott announced last Thursday that he would not stand again for the leadership of the party.
Other MLAs thought to be considering standing for the UUP leadership include Basil McCrea, John McCallister and Mike Nesbitt.