Belfast man charged in connection with Christopher Mackin murder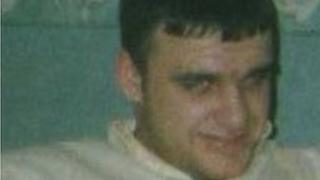 A man has been remanded in custody charged in connection with a murder in Belfast city centre.
James Valliday was accused of assisting offenders by purchasing petrol to destroy a car used in the killing of Christopher Mackin.
The 46-year-old, of Agincourt Avenue in the city, was refused bail at Belfast Magistrates' Court.
He is the third person to be charged over the shooting at College Square North earlier this month.
Husband and wife Charles Valliday, 40, and Julie-Ann Valliday, 35, of Powerscourt Place, Belfast, are both accused of the murder.
All of the suspects deny the charges.
Mr Mackin, 31, was shot up to four times within minutes of leaving his home on 1 March.
Police believe he was lured to his death following a series of phone calls and text messages in the preceding hours.
Investigating detectives claim they have built a circumstantial case involving CCTV, telecommunications and cartridge discharge residue evidence.
The court was told the murder weapon has yet to be located.
Concerns about possible interference with the investigation were also identified.
Remanding James Valliday in custody on Monday, District Judge Fiona Bagnall ordered him to appear again on video-link next month.