Former Ballymoney UUP mayor joins DUP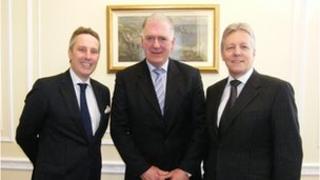 A former mayor of Ballymoney and UUP assembly candidate has left the party to re-join the DUP.
Bill Kennedy announced his resignation from the Ulster Unionist Party on Monday.
He stood unsuccessfully in the 2011 assembly election, polling 2,189 first preference votes in North Antrim.
Mr Kennedy said that the UUP was on an "unchanging downward course", regardless of who was elected to lead the party.
"I want to see a strong and confident unionism, not one which cannot decide what purpose it exists to serve," he said.
DUP leader Peter Robinson welcomed Mr Kennedy's decision to re-join the party. He formerly served as a DUP councillor in Ballymoney.