Primark staff in Northern Ireland to strike over pay freeze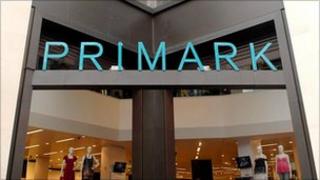 Primark employees in Northern Ireland are expected to strike on the St Patrick's Day holiday weekend in a row over a two year pay freeze.
It follows a ballot which saw 88% of members of the union, Usdaw, vote in favour of a strike.
The industrial action will take place from 07:00 GMT on 16 March until 19:00 GMT on 17 March.
Primark's eight stores in Northern Ireland will be affected on both days.
The union said the industrial action was the result of Primark's "failure" to offer staff a pay rise for the past two years, despite the company making profits of £644m between September 2009 and September 2011 and sales continuing to increase.
In 2010, Usdaw members agreed to accept a pay freeze, but that decision was taken on the understanding that the company would not expect employees to accept a pay freeze for two years running.
Nicola Scarborough of Usdaw said: "We have made it clear to Primark that we are still prepared to sit down and negotiate, with help from the Labour Relations Agency if necessary, but the company must be prepared to table a realistic and meaningful pay offer for our members.
"Announcing a 4% increase in dividends last year, the Chairman of Primark's parent company ABF said that their good results, achieved despite difficult trading conditions, were 'not delivered by chance but are the consequence of the hard work and enterprise of our employees'.
"Usdaw agrees. Our members at Primark are loyal and hardworking and are entitled to expect a fair deal from the company in return."