Fears for future of Belfast city centre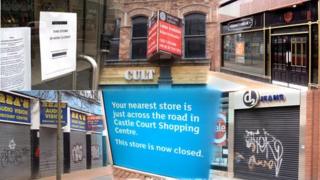 Belfast traders have demanded an urgent meeting with Stormont ministers to discuss their fears for the future of Donegall Square and Royal Avenue.
Several retail outlets are currently unoccupied and Belfast Chamber of Trade and Commerce has warned that the "economic lifeblood" of the city was at stake.
President of the Chamber of Trade and Commerce Joe Jordan called for an "urgent focus on regenerating Belfast's most iconic retail district."
He said: "The city has come on leaps and bounds in terms of its hospitality infrastructure, technical ability and capabilities and this is set to develop further with the recent announcements.
"But, the chamber has serious concerns about this area of Belfast, with vacant units increasing daily.
"I am asking for urgent government help, particularly from Ministers such as, Arlene Foster, Alex Attwood, Sammy Wilson and Nelson McCausland. We need to meet them sooner rather than later.
"If the centre of Belfast is allowed to decline even further, the effect will be felt all over Northern Ireland."
Among the issues the chamber of trade wants to discuss are rates, a government initiative to attract inward investment in retailing and city centre planning.