Vehicle damaged at Quinn plant in Cavan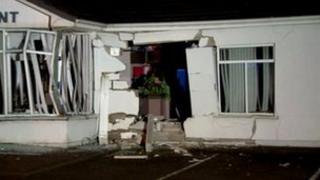 Irish police are investigating an incident of criminal damage at the Quinn Packaging plant in Ballyconnell, County Cavan.
A Garda spokesman said a vehicle parked near the plant had been damaged between 21:00 and 22:00 GMT on Monday.
The incident is the latest in a series involving the company's property since new management took over last year.
Fermanagh businessman Sean Quinn lost control of the company after being bankrupted earlier this year.
A fire damaged the group's headquarters in County Fermanagh in January.
In December, a lorry was driven into the complex, leaving a gaping hole in a building.
Sean Quinn was once believed to be the richest person in Ireland.
He was bankrupted in January over a debt owed to the former Anglo Irish Bank, now the Irish Bank Resolution Corporation (IBRC).