Caral Ni Chuilin dismisses claims of gagging NI culture bodies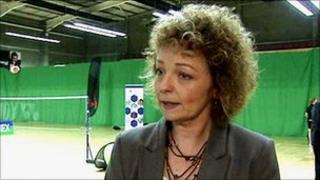 The Culture Minister Caral Ni Chuilin has dismissed claims that she tried to gag arts and sports groups in NI.
The claim was made in theBelfast Telegraphwhich obtained a confidential memo sent by Ms Ni Chuilin.
It sets out a range of directives for dealing with the media.
DCAL said the objective was to promote best practice in communication and to ensure that the media and the public were fully informed about DCAL and the work of the arms length bodies (ALBs).
These include organisations such as the Arts Council, the Armagh Planetarium and Sport Northern Ireland.
Among the "protocols" outlined by the paper was the requirement that bodies consult the department of culture about any approach from the media.
It said the minister should be offered the opportunity to lead in any publicity event.
The Belfast Telegraph also claimed the memo warned that if there was a disagreement between the department and ALBs, DCAL would have the final say.
'Custom and practice'
However, Ms Ni Chuilin said the protocols had been in place for decades, "even through direct rule".
"This has been custom and practice, I have just put it in writing," she said.
The minister said 84% of her department's budget went to arms length bodies.
"It's just a question of autonomy and responsibility for public money," she said.
Ms Ni Chuilin said she met regularly with the bodies and none had raised the issue.
"This is not a dispute about anything. I'm quite happy with the work of the ALBs. They do a great job," she said.
A spokesperson for the Arts Council, one of the arms length bodies, said: "The Arts Council confirms that it received from DCAL a proposed media communications protocol between DCAL and its arms length bodies.
"The protocol will be considered by the Arts Council at its next board meeting at the end of March.
"We can't make any further comment until the council has had the opportunity to discuss the protocol."