Woman dies in fire at house in Linseys Hill in Armagh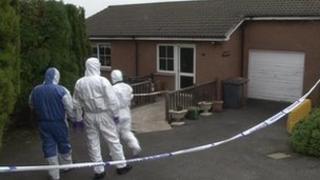 A 78-year-old woman has died following a house fire in Armagh.
The blaze broke out in the property in Linseys Hill shortly after 07:40 GMT on Tuesday. She was the only person in the house at the time.
Police investigating the circumstances surrounding the fire do not believe at this stage that it was suspicious.
Fire and Rescue Service spokesman Dale Ashford said three elderly people had now lost their lives in accidental house fires in the past week.
"All our thoughts are very much with this lady's family and friends at this time," he said.
"We work tirelessly to protect all our vulnerable groups, including the elderly, to ensure they keep safe from the dangers of fire in their homes.
"We target our free home fire safety checks and work closely with partner agencies to help protect the elderly in our community."
Mr Ashford said he would be meeting partner agencies later this week for discussions on further measures to save more lives.
"We have had eight fatalities over the past year in accidental house fires, compared to 11 fatalities the year before," he said.
"However, we want to reach a stage where we have no fatalities in Northern Ireland due to accidental house fires and we will continue to dedicate ourselves to that."