Murder accused Jackie Allen has no memory of events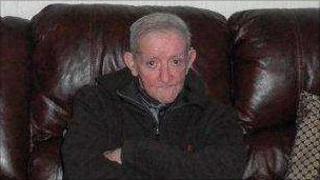 A 48-year-old Lisburn man has appeared in court charged with the murder of a pensioner in the city.
Jim Heasley died in hospital 12 days after he was found with severe head injuries in Manor Park in October 2010.
Craigavon Crown Court, sitting in Armagh, heard that Jackie Allen, from Ravarnet Gardens, denies murdering the 70-year-old.
The accused did admit he had no memory of events on "the night in question".
Prosecuting QC David Hunter claimed that Mr Allen had been lying in wait for the pensioner after an early argument in the Lagan Valley Pigeon Club, that he followed him along Longstone Street and assaulted him in Manor Park.
Mr Justice McLaughlin was told that Mr Allen, who had been drinking, was later picked up by two police officers who gave him a lift after seeing him falling into a hedge.
Witness
However, Mr Hunter claimed that CCTV footage taken from the club and outside in Longstone Street, showed Mr Allen with Mr Heasley and that he followed him.
The lawyer said the court would hear from witnesses in the club, particularly the bar manageress, who at one stage had told Mr Allen to "knock it on the head" when she saw him and the pensioner arguing with each other.
The court was was also told that Mr Heasley's blood was recovered from a trainer belonging to the accused.
Mr Hunter said this evidence showed that Mr Allen must have been "in very close proximity to the deceased man, as he lay, bloodied, on the pavement of Manor Park".
The lawyer claimed that "the combination" of all the evidence, the altercation in the club, the CCTV footage and the bloodstained trainer would prove Mr Allen assaulted the pensioner and "inflicted that fatal injury".