Armagh band parade will go ahead on 17 March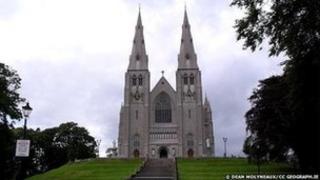 The Parades Commission has decided to uphold its ruling to allow a loyalist band to parade through Armagh on St Patrick's Day.
Cormeen Rising Sons of William have been given permission to hold a procession with 40 other bands and more than 1000 supporters.
The SDLP and Sinn Fein raised concerns about the march taking place on the city's biggest tourism day of the year.
The parties made representations to the Parades Commission on Tuesday.
The UUP's Danny Kennedy MLA and Councillor William Irwin also spoke to the commission, in support of the parade organisers.
The commission said it had reviewed the information, and considered all the representations submitted to it.
However, it added: "The oral and written representations it has received do not, on balance, warrant the imposition of further conditions on the parade.
"It has therefore decided not to amend its original determination of 8 March 2012 in respect of this parade."