NI pharmacists reject cash for cuts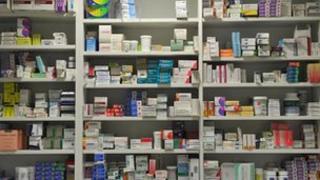 Community pharmacists in Northern Ireland have rejected a financial package from the Department of Health which would have reimbursed them for some money deducted from their budget last year.
A row has broken out between pharmacists and the department over how much money has been lost.
A figure of £38m has been dismissed by health officials. Health Minister Edwin Poots said an extra £8m would bring the total investment to £91.5m.
In January, as a result of a judicial review, a high court judge ruled that health chiefs had not consulted properly before imposing the cuts.
The judge also held that no sufficient regulatory impact assessment was conducted as part of the process for bringing in a new drug tariff.
Legal proceedings were brought at the High Court by the body which represents more than 500 chemists.
Mr Poots said his department had attempted to reach an accommodation with Community Pharmacy Northern Ireland in what was a "a very difficult context".