County Down man betting on Cheltenham glory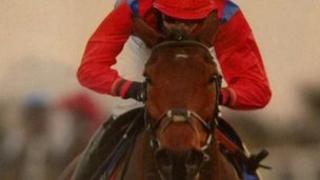 Cheltenham is no stranger to horses races that have been bred in Northern Ireland.
But the unusual thing about Moscow Mannon is that he is bred, owned and trained in Northern Ireland.
When it competes in the last race of the National Hunt on Wednesday, he will also be ridden by a local jockey.
The owner, Jonathon Flanagan, who has no background in horses, decided to start breeding them as a hobby seven years ago.
"Everybody is talking about him and they wish us all the best and because everything is local that makes it more special," he said.
"Hopefully, if all goes well, we will be drinking champagne tonight. But if not - win, lose, or draw - we will come home happy as long as the horse is safe."
Six-year-old Moscow Mannon takes his name after the quiet townland of Carrickmannon, in between Crossgar and Ballygowan.
He may not have been bred in a huge stable yard but thousands of loving hours have gone into getting the horse ready for Wednesday.
To get his place in Cheltenham, the gelding has had to win his last three bumper races in a row, Galway, Fairhouse and Gowran.
It is still only his first racing season, but his trainer Brian Hamilton from Ballynoe, outside Downpatrick, is hoping for a fourth.
"I want to give him every chance to show what we know he is capable of," he said.
"It will be new territory in many ways and hopefully the occasion will not get to him. We could do with a bit of rain on the ground as that would take the speed out of the other horses."
Seven years of hard work has gone into getting Moscow Mannon ready for this day.
A young amateur jockey, Declan Lavery, who lives beside Brian Hamilton, is also stepping out for the first time at the popular race meeting.
He has ridden the bookies favourite to win his last three races. On Wednesday, he will be up against riders like Tony McCoy and Ruby Walsh.
In a strange twist, the 20-year-old will be hoping to deny his current employer, Irish champion trainer Willie Mullins, when he lines up Moscow Mannon in the 17.15 flat race.
"Mr Mullins has four entered in the race and whatever he runs will be hard to beat. If the right Moscow Mannon turns up I am confident we can give them all a run for their money," he said.
Jonathon Flanagan has been offered a six figure some for his horse but for now, anyway, has turned it down, so that he can say he has owned a horse that ran at Cheltenham.