Jonathan Cairns' mother misses her son every day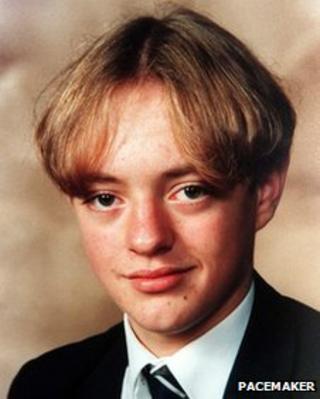 The mother of a Ballykelly teenager who was murdered 13 years ago says she misses her son every day.
Jonathan Cairns, who was 18, was on his way home from a night out on 25 April 1999 when he was attacked.
The police have re-opened the inquiry and are following a number of new leads.
A man from Ballykelly was jailed for five years for helping to dispose of the body, but no-one has ever been convicted of his murder.
The teenager's body was found in a shallow grave in Loughermore Forest, near his home, the day after he was attacked.
His mother Hazel said she still felt his presence in the family home.
"I keep on thinking that you'd hear him in the house, there's just an empty chair, I wouldn't say that he's sitting on the chair, but he would have sat for his dinner, he always sat for his dinner at the table, you never would have heard a wrong word from him," she said.
The Cairns family are meeting with police on Wednesday to be updated on the re-opened investigation into Jonathan's murder.
On the 10th anniversary of the murder, a £35,000 reward was offered by the family and a local businessman for information leading to a conviction.
Speaking at the time, Jonathan's father, Raymond Cairns, said the family felt it had been denied justice.
"We feel we have had no justice for Jonathan at all," he said.
"One person got five years for having to bury the body, but the person who actually did murder Jonathan still hasn't been brought to justice.
"Time does help, but on occasions like this it is nearly as fresh as the day it happened."
Police confirmed that they are following a number of new lines of inquiry and will be working in the village over the coming days.
Detective Chief Inspector John McVea is in charge of the investigation.
"We believe his killer or killers also lived locally. We also believe that people within the Ballykelly community have information which could help solve this case," he said.
"We appreciate it is almost 13 years ago but we are asking people to think back to the Saturday night and Sunday morning of 24-25 April 1999.
"People may not have been prepared to come forward at the time for a variety of reasons but we are asking local people to think again.
"Circumstances and loyalties may have changed over the intervening 13 years and it is never too late to do the right thing."