Farmers Union calls on farmers to report badger baiting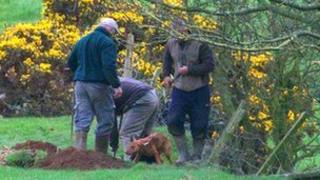 The Ulster Farmers Union (UFU) has called on any of its members who are aware of badger baiting on their farms to report it to the police.
President John Thompson said he was not aware of any farmers involved in the practice.
On Tuesday, the USPCA said it was shocked by the scale of organised badger persecution it had uncovered.
Mr Thompson said 99.9% of UFU members would not want to see the activity being practised on their farms.
He said he had been made aware that a criminal element were practising badger baiting in Northern Ireland.
"It is something we totally condemn. It is criminal, it is barbaric, it is disgusting," he said.
"I'm not aware any farmer and certainly any farmer who knows of any badger baiting going on their farm or a neighbouring farm, I would ask them to report it to the PSNI or anonymously to Crimestoppers.
"This does not do farming or the countryside any good at all. It needs to be stopped immediately."
Warning
The USPCA believes some farmers and landowners have been turning a blind eye to badger baiting gangs digging on their lands. Many farmers believe badgers spreadto cattle, a claim still debated by scientists.
The USPCA's Stephen Philpott warned farmers not to engage in badger-baiting.
"The USPCA would say to any land owner out there, for years we have relied on you as the custodian of the countryside," he said.
"Most of our best information comes from the farming community because they do actually love their animals and respect them.
"Any member of the farming community involved in this practice should be absolutely ashamed of themselves. They're not fit to call themselves farmers and they're not fit to be custodians of the countryside."
Ian Hutchison, a former police officer who leads a UK-wide crime prevention operation focused on badger-baiting said some farmers felt intimidated.
"We know in some instances the farmers are very intimidated by these kind of guys who say 'we're going onto your land and if you don't like it we'll come back and burn your barn down'," he said.
As part of a two-year operation, the USPCA tracked one Belfast-based gang for some time.
The gang - one of nearly 20 the charity has identified - went out up to three times a week, using dogs to target several setts each time.
It is illegal to harm a badger or to damage a sett.
The USPCA obtained undercover footage which shows the gang digging at two setts.
Operatives working for the USPCA used a range of hi-tech equipment, including an aerial drone with a camera on board to film the gang attacking active badger setts - one of the first times such activity has been caught on camera anywhere in the UK or Ireland.
Gordon Adair's exclusive reports on the USPCA operation will be broadcast on BBC Newsline at 18:30 GMT all this week.