Donaldson: Irish have 'questions to answer' on Narrow Water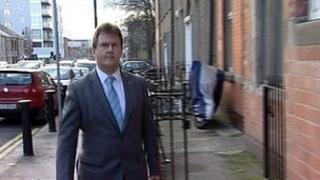 A DUP MP has said the Irish government have "questions to answer" about claims the state failed to co-operate with the RUC investigation into the Narrow Water bombing.
Eighteen soldiers died in the attack close to Warrenpoint in August 1979.
On Tuesday, a witness to the Smithwick Tribunal claimed thatan Irish taoiseach said that "no assistance"would be given to the RUC.
Jeffrey Donaldson said there had been "a failure" by the Irish authorities.
"There is other evidence that has been presented to the Smithwick Tribunal which clearly demonstrates that in respect of the atrocity at Narrow Water there was a failure by Irish state authorities, including the garda, to co-operate with the RUC in their investigations," he said.
He told Good Morning Ulster that the Irish government "have an awful lot of questions to answer about their failure to co-operate in the battle against terrorism."
"There is the wider issue, and more important question that the Smithwick inquiry is pursuing, and that is of collusion between members of the Irish state forces, including the garda, with the IRA."
The Smithwick Tribunal is investigating allegations of Garda collusion in the 1989 IRA murders of two senior RUC officers, Chief Supt Harry Breen and Supt Bob Buchanan.