Nick Clegg condemns NI pipe bomb attacks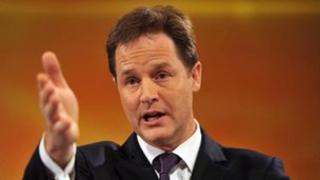 The Deputy Prime Minster Nick Clegg has condemned recent pipe bomb attacks in Northern Ireland.
The Liberal Democrat leader was speaking in the House of Commons following a question from the East Belfast MP Naomi Long.
On Monday a bomb was discovered near a primary school in her constituency.
Nick Clegg told MPs there was "no indication that they were terrorist attacks," but said the actions were "totally reprehensible."