11 Northern Ireland MLAs had more than £60,000 in expenses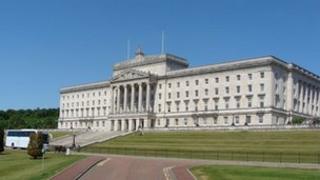 Eleven assembly members submitted expenses of more than £60,000 according to the latest publication of expenses.
The DUP's Jim Wells had the highest total claim among the 108 MLAs, with a bill of £72,014.78.
DUP MLAs occupied the top three spots with Stephen Moutray in the number two position on £68,979.63, followed by Thomas Buchanan with £65,954.92.
The figures take into account office costs, travel subsistence and other expenses.
Theexpensescover the period from April until December 2011.
Up to £75,857 can be claimed by MLAs during 2011-12 for the running of their offices.
The other assembly members who submitted expenses of more than £60,000 were Jonathan Bell (DUP), Dominic Bradley (SDLP), Paul Girvan (DUP), Danny Kinahan (UUP), Ian McCrea (DUP), Conal McDevitt (SDLP), Peter Robinson (DUP) and Mervyn Storey (DUP).